MTW Trekking Power Wheels
Triride MTW Trekking Power Wheels: What You Need To Know
Triride is a top-rated brand that provides exemplary mobility solutions for manual wheelchair users. The company is committed to building electric devices that boost the performance of traditional manual wheelchairs to give the user better mobility wherever they want to go.
The MTW Trekking Power Wheels is one of the brand's most in-demand products given its dependable construction and unmatched performance. This wheelchair attachment is specifically designed to boost the overall performance of manual wheelchairs in any terrain. Thus, whether you want to go on a stroll on city roads or on uneven mountain paths, the MTW Trekking Power by Triride is one you can trust.
Experience the
Triride MTW Trekking Power Wheels
Technical Features
The MTW Trekking Power is designed to provide increased traction and minimize the spinning of the front wheels which is one of the most common issues with front wheelchair attachments.
● Max Power: >2000 Watts (LH+RH) ● Lithium-ion Battery: 48 Volts or 36 Volts ● Traction Selector: I – II – III ● Compatible Systems: IBS, ICC, MDC ● Tyre Options: Cross or City ● Jack Cable Connection ● Net Weight: 12 kilograms ● Maximum Range: up to 50 kilometers ● Triride Software Electronic Programmable ● Anti-tip Wheel ● Braking Function with Rear Light
Triride showcases one of the best built-in technology
of front-end wheelchair attachments on the market.
See the Triride MTW Trekking Power Wheels...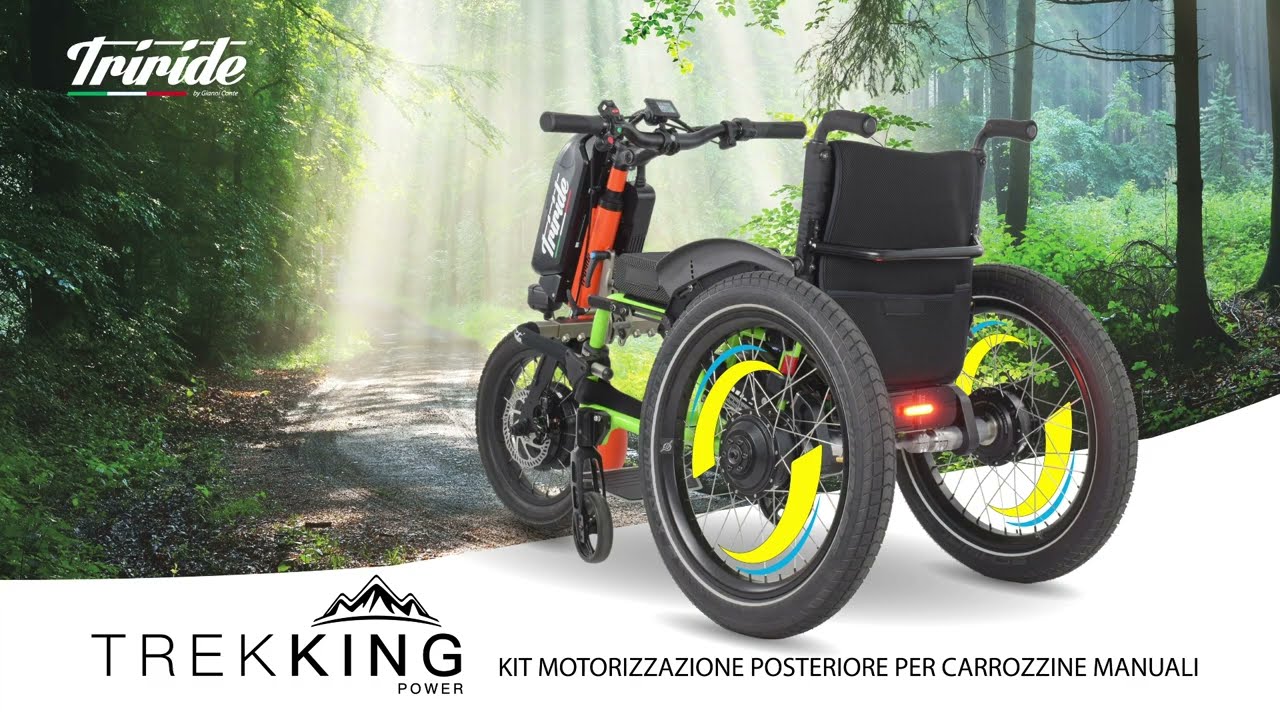 Your Outdoor Companion
The MTW Trekking Power Wheels by Triride is built to boost the mobility of manual wheelchairs and make them more stable. Therefore, whether you are going for a smooth stroll on cycling paths or for an adventurous ride on steep mountain trails, this power wheelchair attachment has you covered.
Fast and Easy to Attach
Unlike other wheelchair attachments which are quite complicated to attach to manual wheelchairs, the MTW Trekking Power Wheels are impressively very easy to connect and fasten. These wheels are already fitted to a designated axle bracket that inserts into a bracket set fitted on your wheelchair. Attaching the MTW Trekking Power Wheels to your chair is fairly easy and only takes a couple of minutes to do. In addition, these attachment wheels are a breeze to remove as well so it's quick and simple to swap back to your regular stand-alone manual wheelchair.
Exceptional Performance
Triride prides itself on providing customers the freedom to go wherever they want easily through their power wheel attachments. The MTW Trekking Power Wheels are engineered with the user's mobility and comfort at the forefront. Through Triride's advanced electronics, this electric-powered wheelchair attachment delivers quality and effectiveness. In addition, this device is designed with the user's safety in mind; thus, they can tackle all paths with full control.
Electronic programmable by Triride software for a personalized drive.
Final Thought
Furthermore, the MTW Trekking Power Wheels delivers an excellent range of up to 50 kilometers. Moreover, for the user's comfort and safety, this attachment comes with an in-built braking system and rear braking light that flashes when the brake is triggered.
Given the exceptional performance and unmatched technology the Triride MTW Trekking Power Wheels deliver, it is undoubtedly one of the best manual wheelchair power attachments you can find in the market.