Off Road Wheelchair Wheels
Built to make off road pushing easier!
Off-road wheelchair wheels are made to put straight on to your chair whenever the terrain requires them. They have a standard 24-inch diameter with a standard ½-inch diameter hole of the axle. That means that you simply take off your regular rear driving wheels and slip these straight on whenever the road gets really tough and you want to enjoy some off-road riding.
With 35 sturdy stainless-steel spokes and a more robust profile, these wheels will not get damaged even as you pass over rugged and difficult terrains. Furthermore, the Schwalbe Land Cruiser tyres have large outer lugs while the central section has a gentle rib.
Invictus Active All-Terrain
Wheelchair Wheels are fantastic!
That means, that you have added grip for improved traction on rough roads while maintaining a decreased resistance to rolling for easy pushing. Add to that the K-Guard puncture protection which is provided by the layers of Kevlar® fibres which reinforce the natural rubber to make flats a thing of the past, and off-roading has never been so appealing. Also, the black anodised aluminium handrims, not only look great but also can help to increase your speed to add to the thrill of off-roading.
These Off-road wheelchair wheels offer the highest technology to make your
off-roading experience comfortable and trouble-free and let you enjoy the freedom
and challenge of tackling all different kinds of track, trails and terrains.
Will they fit my wheelchair?…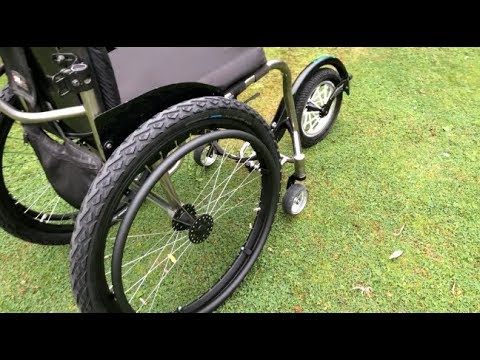 Will they fit my wheelchair?…/em>
If you have 24 inch or 25 inch wheels they will fit – the actual rim is 22 inch but with the thick tyres this makes then 24 inch overall. We have many people who normally have 25 inch wheels but as the size is almost 'between' 24 and 25 inches they are suitable and it does not make a huge different to your seating position.
Tyres and inner tubes?
Our wheels come with tyres made specifically for going off road with great traction and puncture resistant – we will also fit them along with the inner tubes for free! Your wheels come ready to go straight out of the box./p>
K guard puncture protection
These tyres feature K guard puncture protection. This is a protective layer of natural rubber which is reinforced with Kevlar® fibres. That means that you can ride with confidence anywhere.
Fitted with a black push rim and a Schwalbe Landcruiser tyre, which incorporates large lugs for grip, but keeps a central rib for improved rolling resistance. K guard puncture protection adds peace of mind.
The wheels are 24″ meaning they will be a straight swap with your existing 24″ wheel with minimal to no adjusting needed. The wheel rim is 22″ and with the chunky tyres bulks this out to 24″.
The complete off-road wheel. Each wheel comes completed, including black push rim, tyre and tube, ready just to fit straight onto your wheelchair.
You may also be interested in