Excel G-Explorer
Enjoy the fresh air with a genuine all terrain outdoor wheelchair with rugged mountain bike inspired tyres, you really can get out and about with G-Explorer.
Never be afraid to explore outdoor with the Excel G-Explorer. With its 24 inch mountain bike tyres for all terrain, this wheelchair is designed for any adventure. Although not crash tested this wheelchair has been designed to easily fold and disassemble for transportation. With its ability to fit into almost any car boot, long drives are no hassle. The backrest angle has also been adjusted to give the user a more natural seating position; providing perfect precision lumbar support. To make attendant experience more comfortable, we have added height adjustable push handles so every adventure is just as enjoyable for both user and attendant.
Excel G-Explorer
Self Propelled Wheelchair
Lightweight
and durable aluminium frame
Total weight: 15 kg

Maximum user weight:* 113 kg (17 Stone) for 40 & 45 cm seat width. 135 kg (21 Stone) for 50 cm seat width

Available frame colours: Silver and Trail Black
Excel G-Explorer
Self Propel All Terrain Wheelchair
Half-folding backrest

Removable upholstery

Adjustable footplate heel loops

Ultra lightweight aluminium frame

Swing-away and removable legrests

Wide puncture proof front castor wheels

Height adjustable push handles and armrests

Quick release rear wheels with 24″ mountain bike style tyres

Quick release fold in one mechanism engaged by pulling the seat upholstery
The Excel G Explorer Self Propelled Wheelchair...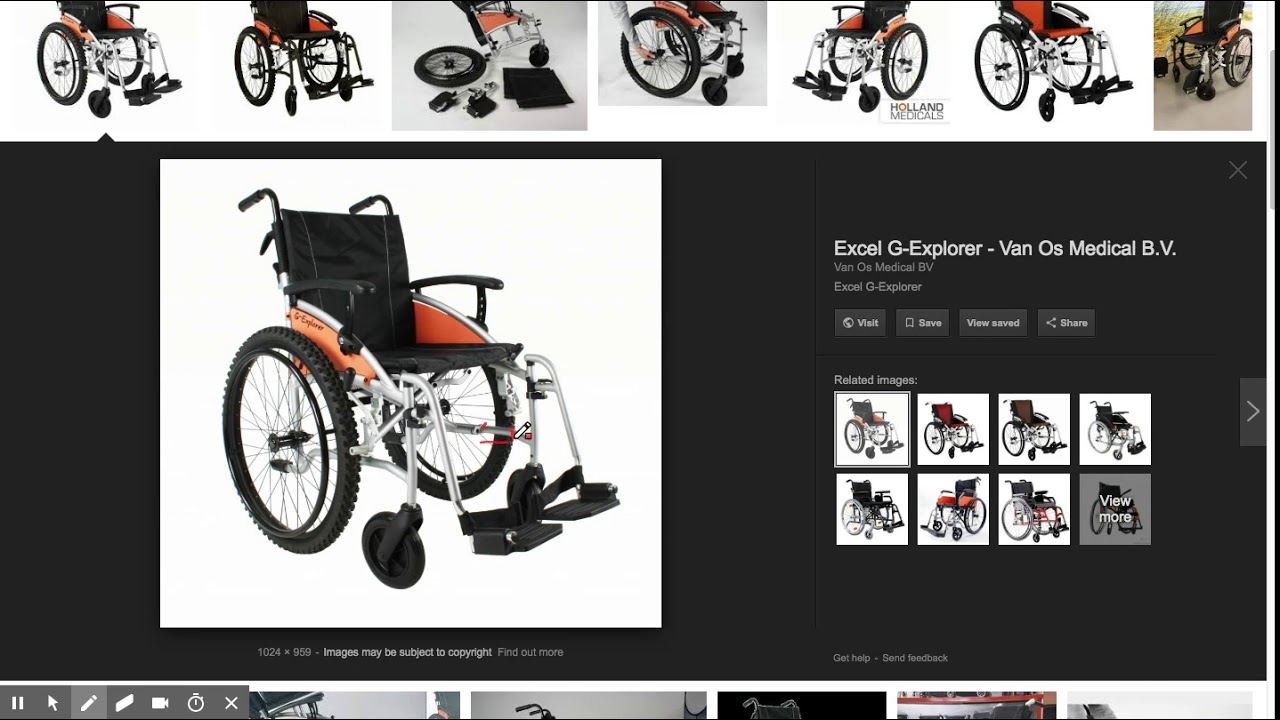 General explanation of your wheelchair
Your new Excel G-Explorer wheelchair is a lightweight wheelchair. The wheelchair is equipped with ergonomically designed handles, so your attendant can easily push the wheelchair. The armrests of the wheelchair are height adjustable.
Fold and unfold the wheelchair
To fold or unfold the wheelchair, there are some steps you should follow. When folding and unfolding the wheelchair you should always be careful so that the wheelchair does not get damaged.
Add a FreeWheel wheelchair attachment
The Excel G-Explorer wheelchair is the perfect chair to attach a FreeWheel to. With this revolutionary wheelchair attachment, you will be able to travel over difficult terrain and get to many exciting places. The large front wheel attaches easily onto the front frame of the Excel G-Explorer wheelchair. You simply twist the wheel around and it lifts your caster wheels up off the ground. Travelling with one large wheel upfront is much easier. You will find that you can push across all kinds of surfaces including gravel, sand, snow, wet grass, leaves, and more, with relative ease.
Maximum user weight varies depending on seat width: 113 kg (17 Stone) for 40 & 45 cm seat width. 135 kg (21 Stone) for 50 cm seat width.
You may also be interested in